Photogrammetry is well-accepted method of preparing topographic and base maps required for various development works such as urban planning, natural resource management, hazard mapping, hydropower construction etc.
GeoSpatial, in collaboration with Nakanihon Air Service, offers a photogrammetric service, process of deriving 3D digital data directly from aerial photographs using stereoplotter (enables the operator to view and work on 3D images). The accuracy of the digital data produced by this technology is very high.
GeoSpatial, being involved in all aspects of aerial photogrammetry, is committed to provide following
services: –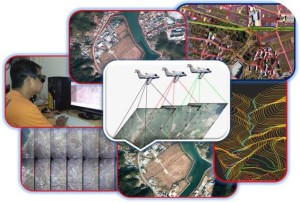 Digital Aerial Triangulation and adjustment
Digital Terrain models (DTM) and Digital Surface Model (DSM)
TIN Model and Orthophoto Maps
Digital Orthophotos Mosaicing and Rectification
Generation of 3D city models
Our photogrammetry department comprises of trained professionals from JAPAN and uses first-rate KLT-Atlas and VirtuoZo Digital Photogrammetric workstations equipped with Nu-Vision polarized stereo screens. Product can be delivered in globally accepted formats such as DM, DWG, DGN, DFX and ATL etc.
Potential Areas of Application:
Urban and Regional Planning
Land Cover and Land Use analysis
Thematic Mapping (Topographic Maps, Noise Maps etc)
Natural Resource Management
Inventory of natural Hazard and Disaster results
Hydropower and Infrastructure Construction
Planning of line objects (roads, transmission lines, pipelines etc.)
Environmental studies, River changes analysis